Mac Downloader Folx 5: Why Is It the Best?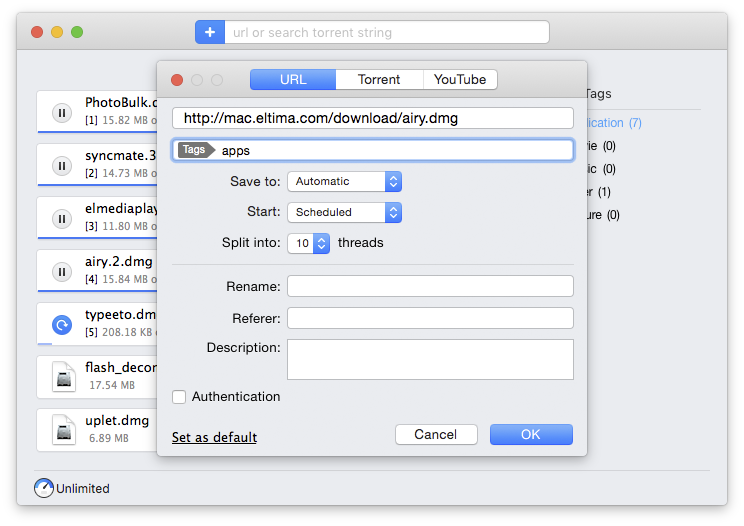 Today the web is filled up with apps and services that offer you to download video, music, books and other content quickly, simply and pains free. They can find you any multimedia file, convert it into different formats and save it to your hard disk, smartphone or tablet. This software is good at catching content from different video sharing resources and delivering it to any folder you specify. But what it can't do is managing the download process, download speed and downloaded files. If you want to take control and manage downloads, but not only save files use the best download manager software and torrent client Mac - Folx 5.
Folx allows you to adjust the downloading process to your personal needs, Internet speed, computer potential, etc. It opens up a wide range of possibilities to improve your Mac experience.
With Folx 5 you can do the following things:
1. Increase download speed on Mac. To boost the whole process the download volume should be distributed evenly. It's easier to transfer smaller parts of a file than big ones. That's why Folx splits downloads into up to 20 threads in PRO version and up to 2 threads as a free app. To increase the download speed launch Folx and paste a link. You can adjust the number of threads by yourself in the "Split into" box.
2. Schedule downloads on Mac
. Folx PRO allows you to set a particular time for downloads. It's very helpful and convenient for those users who plan their activities beforehand and want to control the Internet costs. It's not a secret that with some providers you can surf the net at lower tariffs within certain times of the day or night. By using Folx PRO you have a great possibility to schedule your downloads for exact days and even hours. You can also set up the actions for the app to fulfill. It can be either active, can seed, or download. When the downloading completes Folx PRO can close, go asleep, quit or do nothing.
3. Optimize download speed Mac.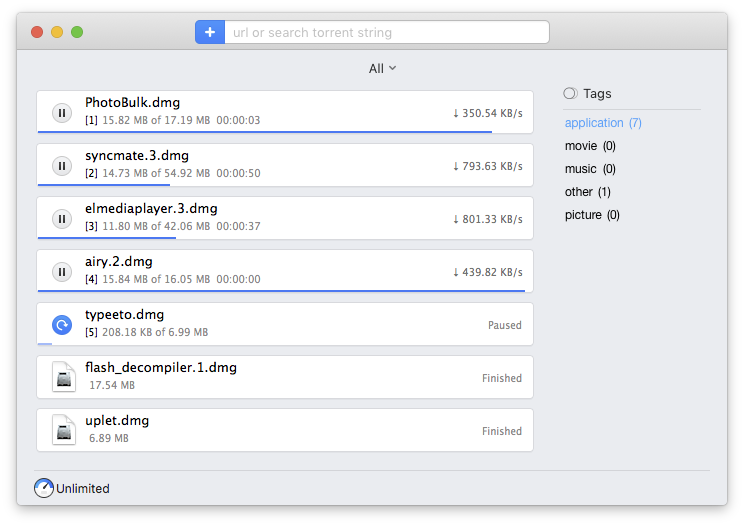 If you ever used any download manager software you know that all these apps don't allow you to regulate the download speed. Meanwhile, it's a very important feature because downloads often slow down other activities online or on the computer. To prevent this Folx empowers you to control your download speed manually or assign the app to allocate it correctly. You can set up the speed between 5 kB and 2 MB. If you run multiple downloads at a time it's more convenient to authorize Folx for adjusting the speed. Check Smart Speed Adjustment option and Folx PRO will automatically manage it according to your current activities on the web and on Mac.
4. Organize downloads Mac. The Downloads folder often becomes a garbage dump because users don't have time to sort the downloaded files out and to clean it. Folx prevents clogging up this folder and offers you its tagging feature to organize your downloads. The tags allow you to locate the downloaded content to different folders and after that quickly and easily find any file on Mac. It doesn't matter when you downloaded a file or what exact title it has. According to the content your downloads can get such tags as movies, pictures, music, applications and others. If your content falls under a unique category you can create a proper tag by yourself. Folx PRO enables you to assign multiple tags to one file. So you will find it on your Mac without problems.
5. Resume broken download Mac
. Big files can take some time for downloading. If the Internet network is not good enough or there are other reasons the download process may be interrupted. But Folx successfully solves this problem, too. It will resume interrupted downloads automatically. You can also do it by clicking a round arrow. The downloading will start immediately from the point it stopped. That's why you won't need to restart it from the very beginning.
6. Add downloaded files to iTunes
. The iTunes library syncs your files and gives access to your music and videos from any device that supports it: iPhone, iPad, iPod touch, Apple TV, Mac and Android-based smartphone. It provides security of storage and saves a lot of space on your devices. Folx allows you to add your downloads to iTunes. For this check the box Integrate with iTunes in Folx settings and enjoy your favorite video and audio playlists in iTunes library.
Folx PRO is an effective tool to manage your downloads. It's all-in-one solution that replaces many other Mac apps
 and services in taking control over your download process.